The L. J. Scully model LS-76 (aka "THE LATHE") is the last model they built. The photo, below, shows Lawrence Jeremiah Scully , son of founder John J. Scully, demonstrating one of the LS-76 lathes.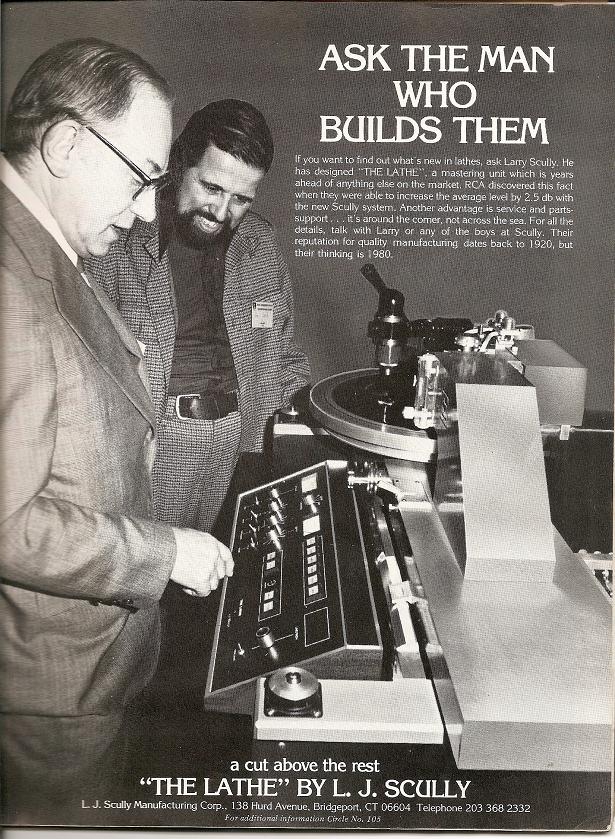 The son (L. J. S.) and grandson (Jerry) of the founder sold his illustrious patronymic to Dictaphone, who marketed audio recording equipment thereafter under the Scully badge. So, in order not to infringe on the sold name, the LS-76 would be described as having been manufactured by "L. J. Scully." It was their best lathe, in terms of automation (based on the Capps disk cutting computer) and was built using computer-designed castings.
I was able to purchase THE LATHE #660 as organ-donor and test jig (for clones and mods) for #656... It was used originally by Eva Tone who made Soundsheets, which were flexis that came in magazines.
Now its 16" platter is used for playing Nickel stamper mothers, with a sacrificial DJ cart.
Here's a detail photo of the carriage, which is holding an Ortofon DSS 731 cutter, that happens to be designed to handle CD-4 cutting, that puts 4 channels of audio in a monogroove. Although CD-4 is cut at 1/2 speed, it requires flat response for the modulated carrier frequencies up to 22.5 kHz (which will be reproduced at 45 kHz). This cutting head has a very flat phase and frequency response (+/- 1 dB) from 5 Hz through > 25 kHz, being down by 5 dB at 30 kHz and 8 dB by 35 kHz.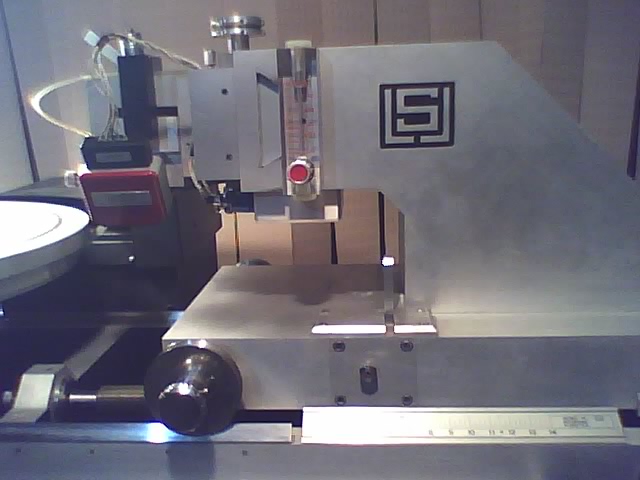 ...shown revolving a 16" transcription disk possessing 6 bands of a Cavalier Cigarettes ad, at 33+1/3...
(right-click "View Image" or "Open image in new tab" to see entire picture)
And here's the main model (#656, captive vacuum platter / floating head lathe), at Dingbat Lacquer's, originally used at Criteria, by Mike Fuller... By coincidence, the Dingbat room is where Mr. Fuller had first used a disk cutting lathe, while in High School, before he moved to Miami and ended up cutting at Criteria:
(right-click "View Image" or "Open image in new tab" to see entire picture)
It's presently holding the red cutting head (I have Mr. Fuller's DSS 732 blue cutting head in storage along with a DSS 821 cutting head (green model)), using Ortofon GO 741 amps and STL 732 de-esser.
The other THE LATHES known to be still in use are those of Tor Degerstrøm (#653), Pete Lyman (#651), and Deroy Wood of Rhythmshack (#654). We've now located #657, crated somewhere in England, and #662, in Nigeria. If you have a lead on where to find LS-76 #652, #658, #659, or # 661, please let me know...
- Andrew